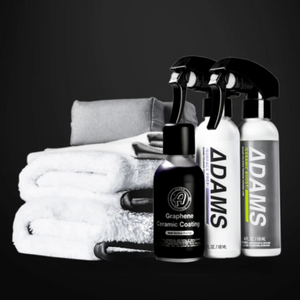 Adam's Graphene Ceramic Coating Kit
>10H Hardness, 7+ Years or more of protection
Our longest lasting coating yet!
Less prone to water spotting
Higher stain resistance against bugs, saps, droppings, etc.
Higher scratch resistance during the washing process
Easier to apply than previous Ceramic Coatings
Increased depth and clarity to all surfaces
Lower sliding angle with water evacuating at angles less than 10-15°
Higher contact angles averaging 110-118°
Patent Pending, UV Tracing Technology™
Free to apply to all Painted Surfaces, Glass, Headlights, Chrome, Trim, Wheels, and even Bed Liners!